MINNESOTA FACTS USER GROUP
RELAUNCH EVENT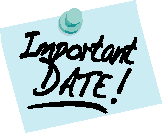 WEDNESDAY, MARCH 20, 2013
9:00 - 12:30

Come join us for the relaunch of the Minnesota FACTS User Group. Meet with other FACTS users and reap the benefits of sharing how others use their software, discuss FACTS topics of common interest as well as best business practices inside and outside of FACTS.
Rolls, Juice and Coffee will be provided!

Thank you, MINVALCO, INC., for hosting this event!
3340 Gorham Ave., Minneapolis, MN 55426
Topics and additional information to follow.

Thanks for attending the
PIVOTAL SYSTEMS & MN FACTS USER GROUP
CUSTOMER APPRECIATION EVENT


Wednesday, October 24, 2012



It was a great event packed with lots of valuable information,
great customer interaction and the opportunity to interact
with members of the Infor team.
Check out these links: